May 18th, 2013
Lenore Senior has published her second book with the Pueblo, Colorado theme, but this time in photographs and digital art, also. This book also emphasizes Pueblo's people.

http://www.mypublisher.com/myprojects/orders
May 18th, 2013
Lenore Senior and Constance Widen have teamed up to produce the book, AROUND THE WORLD. Widen took the original photographs many years ago with an inexpensive camera. Over time, the photos have lost color and intensity. Widen approached Lenore Senior with the idea of working with her photos in Photoshop Elements 9. This book is the result. Widen retains the original copyright on her images. This book is copyrighted 2013.


February 11th, 2013
People have asked me how I do an image like the one to the left, entitled "Moonwalk." It's been a while since I did the original images, but I'll give you the most I can remember about this process….a digital blend, originally done in Photoshop Elements 8. It took me a while to learn how to do this, since I stubbornly refuse to read directions or watch how-to videos. What I remember about this particular image is that the original started with a photo shoot on the Historic Arkansas Riverwalk Project, Pueblo, Colorado a number of years ago. The original photo was of the river and the tiny sparkles of light created by the sun on the water. I believe I uploaded on FAA a color version of the original photo that was highly saturated.




At some point, I blended that photo with another one (but don't remember which), making another color version of the image:




The other day, I was playing around and decided to make a b&w version of the color version above. Of course, there are many choices, even in b&w, having to do with tonal values. I love having full control over it all and not being dependent upon a photo professional, as was the case in the film days, since I've never processed my own film. The b&w version at the top of this page is the final result. This version was done in Photoshop Elements 9. Hope you like it.

February 7th, 2013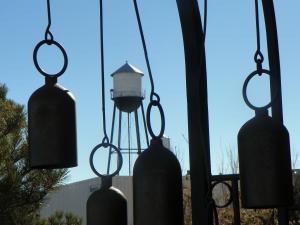 As a follow-up to my previous blog about "Is Photography Really an Art?" I thought I would post some very ordinary photographs and show the viewer what I did with it to change it into what I consider art.

To me, the before photo is of no value as a snapshot, much less art. I almost didn't take this photo. I thought it looked cluttered and was wishing I had a plain background (such as sky only) to work with. However, that was not the case. So I positioned the shot so the water tower would be between two of the bells. Basically, I start out by working with it as a straight photograph to make it the best it can be. I start with saturation (if any), lighting and shadows. If I'm not happy with that result, I may add some Photoshop effects. In this case, I added "ink outlines."

I hope you like the difference.

Click the link below to see the "after" image.
February 7th, 2013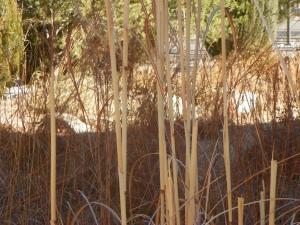 As a follow-up to my previous blog about "Is Photography Really an Art?" I thought I would post some very ordinary photographs and show the viewer what I did with it to change it into what I consider art.

To me, the before photo is of no value as a snapshot, much less art. However, I must have seen something in it to make me take the shot to begin with. And I don't like to waste shots, so I almost always work with them, although they don't always work out in any way that satisfies me. As I worked with this one, I started out working with the values, lighting, and colors. I then turned it into black and white. I was beginning to see something. I then monochromed it with some green. I cropped it to give it the rule of thirds. I may have eventually added a bit of one of the painterly effects to give it some black. Not sure, as I can't remember and don't take notes. I work by the seat of my pants, my knowledge of the software I work with, some basic understanding of art picked up through the years, and my intuition.

Hope you like the difference.

Click the link below to see the "after" product.


January 23rd, 2013
Is photography really an art? It seems to me that artists who use a paintbrush are the ones who most often question the value of photography as an art form. And, although I am a photographer, frankly, I would rather purchase an extraordinary painting (in most cases) than I would to purchase an extraordinary photograph! I have tremendous respect for paintings that are done by a true artist…after all, my father and sister were and are artists (painters, sculptors, etc.). I've seen many ordinary paintings over time that put a damper on my enthusiasm, but so have I seen many "snapshots" and works straight out of the camera without any artistic merit to them whatsoever.

Using a camera seems to be more of a function of the brain: mechanical and technical. So does using computer software to achieve photographic (or digital) results. And yet, in the hands of an artist who can envision what the camera and software can do together, the end result may be anything but technical and mechanical. The camera and/or software may be used to create impressionism, expressionism, abstraction, design, surrealism, and almost anything a paintbrush is capable of, in the right hands.

Painters may spend days, weeks, or years to create one painting. A photographer just "snaps" a picture and then uses software to process it. The whole thing may take 30 minutes, an hour, or whatever. But probably would not take more than 24 hours, no matter how many versions of the work may be created from the same photograph. And it is possible to create different versions with different moods. Painting takes much longer. This may be at the root of some artists' resentment of photographers, as well as the fact that there are so many ordinary photographs out there in the world. Competition is fierce and the public doesn't always know enough to recognize true artists (whether photographers or painters). I am often appalled by what sells, aren't you?

Let's use Ansel Adams as an example of an artist with a camera. Today's photo-artist uses software instead of chemicals. Different process, takes less time, takes a certain intuitive skill as well as technical understanding ….and there's nothing wrong with that. To be an excellent photographer one needs to know about certain artistic principals, at least on an intuitive level, such as composition, light and shadow, color combinations (to establish mood), etc.

I admire great artists, whether they are painters, sculptors, actors, singers, photographers, or whatever. I don't put anyone down because they don't or can't do what someone else does in the way of art. Everyone has a place. Is photography really an art? My response is: only if the camera is in the hands and heart of an artist. Art is after all the result of someone who has a unique and personal vision to share, someone who sees beneath the surface of things, and someone who has the ability to portray what they envision.

*********************************************************************************************************************************************

The illustration I use below is not because I think it's my very best piece, but to demonstrate some features of traditional art that can be used in photography and in the processing of photographs:


March 10th, 2012
http://www.youtube.com/watch?v=6TlFFNYHuiU

This 4-1/2 minute video features the poetry in song of one of the artist's favorite poets and artwork created by Indian FAA artist, Ayan Ghoshal. Congratulations, Ayan! Beautiful work(s)!